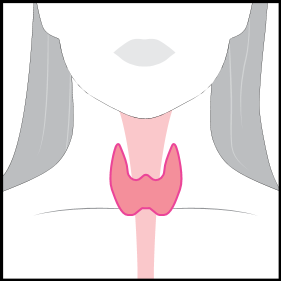 Synergis is a thyroid dysfunction compounding pharmacy that provides high quality compounding medications for improving thyroid function.
Compounded thyroid medications can be used to treat hypothyroidism or low thyroid function. There are numerous symptoms of hypothyroidism, including weight gain, cold intolerance, fatigue, depression, and constipation.
Women are at least twice as likely as men to have hypothyroidism.
T4 (levothyroxine) and T3 (liothyronine) are the main hormones involved in thyroid function and the ingredients used in thyroid medications.
A woman's T4 and T3 are tested to help determine the specific dosages of each hormone needed for treatment. The hormones are made into suspensions or capsules and can be prepared as sustained release.
Synergis' thyroid dysfunction treatment goals are to reduce symptoms, improve quality of life, and help carry out a long-term plan for management.
Often, it is best to combine Synergis' compounded thyroid dysfunction treatments with our compounded hormone replacement therapy, weight management, and skin and hair care treatments.
If what you need is not seen here, please ask for it.